Features
Features: Configuration
Hawkeye Loft Management System
For more information on specific items, select from the specific items below.
---
---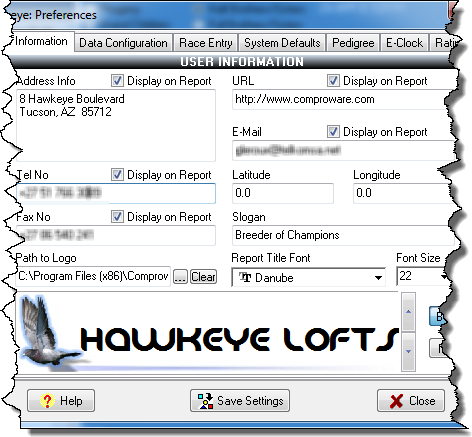 Hawkeye System Configuration Utility
Hawkeye gives you complete control over how the program should work. You can configure Hawkeye's powerful features to meet your needs.
A selection of things you can configure are:
Add, delete or modify bird statuses;
Configure a band style to suit your needs
Select which of the following item to display on some reports:

Your address;
Your telephone number;
Your fax number;
Your email address;
Your website address.

Select your unit of measurement.
Longitude and Latitude of your loft used for distance calculations
The Band style can be configured to display any way you like
Configure Race Entry sheet data for static Race Entry Sheets
Configure how Hawkeye needs to fill in your own Microsoft Excel Race Entry sheet
and more.....